Managed Detection & Response (MDR)
Detect & hunt for evidence of attacker activity in your environment
The service is delivered from our own Security Operations Center (SOC). Here, our experts combine threat intelligence, data-driven analytics and human expertise for the strongest detection and response strategies.
Based on the intelligent threat landscape of your own organization, we monitor each relevant data source (not just what's relevant in general). This way we'll help you to quickly outsmart any APT group targeting your assets and ramp up your resilience against ransomware, espionage and other cyber threats.
Monitoring is a continuous process, and only as good as your intelligence and talent.
Threats go undetected for weeks



Most incidents go undetected for weeks (or even months), due to a lack of threat coverage or false positive alerts. However, if you want to reduce your risk, you need to be able to detect and respond in a matter of hours.





Access to today's threat intelligence

The biggest threats are posed by today's vulnerabilities, not by what happened yesterday. Only if you avail over the latest threat intelligence, you can implement the right measures 'just in time'.

The war for talent

High quality monitoring requires skilled analysts. That's easier said than done in a world at war for this kind of talent. Remember: analysts thrive on handling incidents – so you'll likely find the talent you need at expert organizations such as Hunt & Hackett.
Talented people, supported by innovative automation, take the detection of and response to cyberthreats out of your hands. Efficient and scalable.
Increase resilience against ransomware, espionage and other threats

By investing in MDR, you will decrease the likelihood that serious cyber threats like ransomware will disrupt your business and organisation.



Europe's most talented specialists

Our multidisciplinary, talented team of cybersecurity experts monitors your digital footprint day and night. They don't shy away from an incident and are more than happy to work with you as 'partners in crime'.

Leverages existing investments

Never let a good investment go to waste. Our open technology stack most likely supports your existing detection and response technologies. And if a piece of the puzzle is missing, we will advise on trusted solutions.

Storytelling for better decisions

Monitoring cybersecurity is a technical affair at its core. In our app and portal we translate the technical stuff into easy to understand 'stories'. This enables better business decisions and helps you build strategic partnerships.
Our MDR service is all about building a continuous feedback loop that protects you against ever-changing attack patterns. Intelligence-driven automation plays a crucial role in our approach, to avoid the pitfall of playing a game of 'Whack-a-Mole' to stay in control. If you want to learn more about MDR in general, please have a look at The Definitive Guide to Managed Detection & Response (MDR).
Our MDR platform as solid foundation
We store the security alerts and telemetry* created by your systems in our multi-tenant MDR platform. This platform is designed and build to support our innovative MDR-processes and incorporates trusted technologies such as SOAR (XSOAR), Next-Gen Security Analytics (Chronicle) and anomaly detection systems.


Respond, hunt and optimize
Our analysts quickly respond (remotely if required) to incidents to ensure your organization remains in control. However, we don't sit back and wait for new alerts. On the contrary: we hunt for the harder, to proactively find threats and to update the detection logic of your systems accordingly.
Insights and communication via app and portal
Our customers can contact our analysts, access the security overview and review incidents via our app or our portal.


The next step: Breach & Attack Simulation (BAS)
Once all your systems and processes for MDR are in place, it's time to further mature your cybersecurity strategies with our Breach & Attack (BAS) services.


* We are technology agnostic and support a broad set of 'sensors', including:
Network: network traffic inspection (ids, ngfw)
Logs: server and application logs
Cloud: Azure, Microsoft365 security logs
Endpoint: Microsoft Defender ATP, LimaCharlie, ESET
If required we advise you on selecting one that's right for you.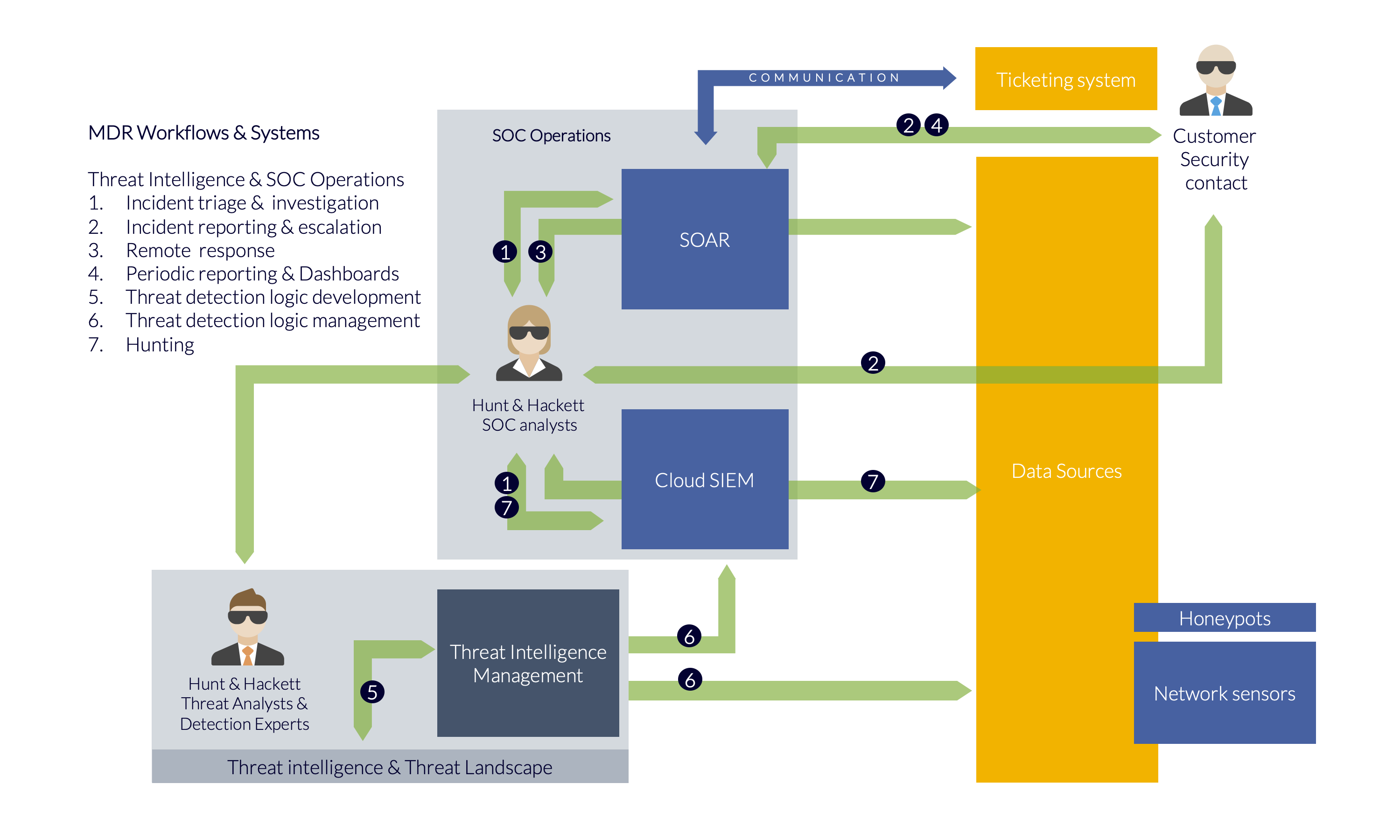 Why Hunt & Hackett?
Your trusted ally in cybersecurity
Skills & Expertise
The Hunt & Hackett team has unrivalled expertise and skills, having recruited the top experts from within the world of cybersecurity, incident response, forensics and operations to operate a SOC.
Methodology
Hunt & Hackett combines both expert analysis of historical forensic evidence and real-time threat detection and hunting, allowing the team to detect attacker activity.
Technology & Tools
The platform allows immediate, real-time visibility into your IT environment, identifying potential compromises and allowing quick action to make sure incidents don't escalate.