How do our customers become leaders in their respective industries in terms of cybersecurity readiness? By adopting a holistic approach based on five pillars: Intelligence, Assess, Defend, Respond, and Insights.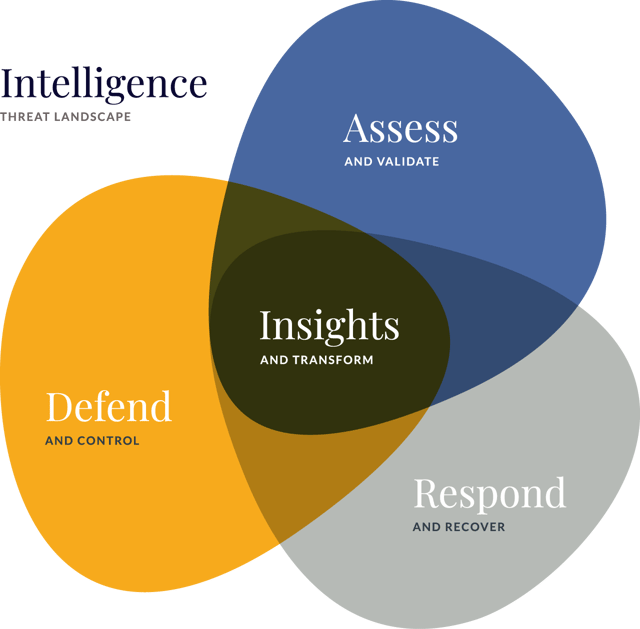 Today, Advanced Persistent Threat groups (APTs) are sophisticated, well-funded and well-organized. They single out their targets, research them and use methods that leave technology-based security strategies exposed. To identify and stop attackers we educate organizations to understand how their adversaries think and how they operate.
What am I up against?
Threat Modeling Workshop
Threat Intelligence Services
We proactively evaluate the ability of your organization to effectively prevent, detect, and respond to cyberthreats before they disrupt your business and become headline breaches.
How effective is my security?
Security Control Validation
Security Program Assessment
Ransomware Defense Assessment
Active Directory Security Assessment
Red Team Assessment
Cloud Security Assessment
Mobile Security Assessment
Am I prepared to respond?
Tabletop exercise
Response Readiness Assessment
We implement and improve preventive security controls and combine this with managed detection and response services. For this we leverage frontline expertise, industry leading technologies and threat intelligence to detect threats early and help minimize the impact of a breach.
We resolve security incidents quickly, effectively and at scale with complete incident response. This includes investigation, containment, remediation and crisis management.
We develop insights to develop and mature the security posture of your organization with improved processes and technologies to optimize early detection of threats, containment and remediation capabilities.
I want to grow as an organisation
I need a Security Program to improve my maturity
I need expert guidance & support to improve my capabilities
I need to train my team
I need a Security Office as-a-service