The Netherlands, after the abandonment of the exploitation of gas fields in the north-eastern province Groningen, is no longer a major energy producing country. However, it does function as a hub to the global energy trade. Extensive networks of cross-border and subsea oil- and gas pipelines and electrical interconnections run beneath the famous fields of tulips. Next to that, Dutch ports (e.g. the Port of Rotterdam) also play an important role in the global energy trade. The Netherlands harbors close to 10.000 energy companies, of which a majority operates from the provinces Zuid-Holland, Noord-Holland and Noord-Brabant1. These components make that the Netherlands has an important role for the distribution of energy on the European continent. Moreover, the Netherlands is the cradle for many technological innovations, mostly due to the available human and financial capital, something the energy sector is yearning for.
Even though the Netherlands is often regarded as an innovative and advanced nation-state, when it comes to renewable energy the Dutch are way behind other countries in the EU, such as France and Sweden, in transitioning their energy consumption towards renewable energy. The overwhelming majority of energy used in the Netherlands comes from oil and gas, as figure 1 shows. To catch up with this backlog, the government and energy industry have launched plans in which they state their green ambitions and how to get there. These plans have led to the investments of considerable amounts of budget in R&D, with specific attention to energy efficiency and renewable energy sources. Still, the Netherlands is largely relying on non-renewable energy, with several emission-intensive industries that are hard to decarbonize (e.g. agriculture, refining and chemicals production).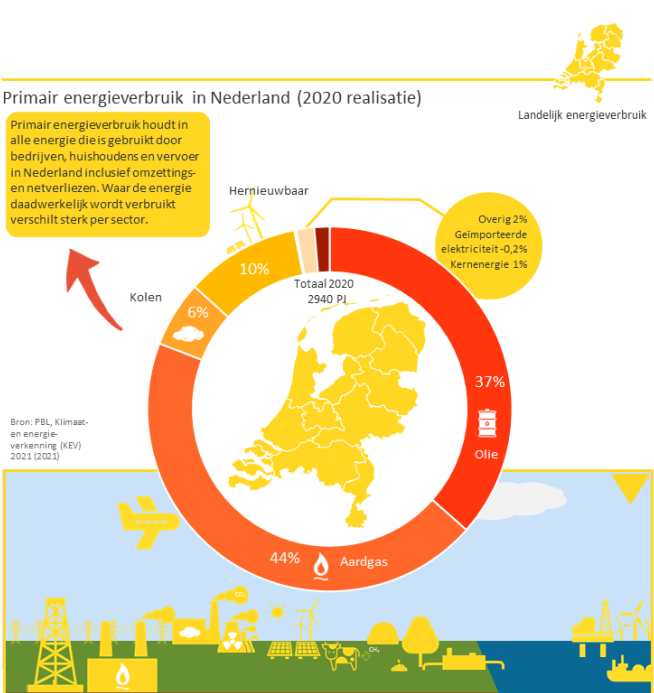 Figure 1 – Use of energy in the Netherlands in 2020 (Topsector Energie).
Nevertheless, the R&D investments have led to fields in the renewable energy industry in which the Netherlands is a frontrunner. The government has drafted up a list of 'key technologies' for which they predict economic growth for the Netherlands. This list includes both non-energy technologies and energy-technologies. These are some energy related technologies that have made the list2:
Energy Conversion;
Energy Storage Materials;
Power-to-Gas (hydrogen technology);
Electrochemical Processes;
Photovoltaics (solar cells).
The Netherlands is also a leader in electric vehicle (EV) deployment, EV charging infrastructure and is a front-runner in offshore and onshore wind energy technology. Such knowledge and technologies could be valuable to nation-states seeking to achieve their energy-transition goals. Protecting knowledge and technology that could help nations transition to more sustainable economies might feel a bit controversial, because why should companies keep their energy-transition tech for themselves if it could benefit the entire world? An answer to this question is that the incentive and financial benefits to create these technologies would disappear, just as the financial means to develop them in the first place. Therefore, it is vital that companies protect their trade-secrets and keep improving their technology and solutions.
Due to the Netherlands' lack of sufficient (renewable) energy generation, they are highly dependent on foreign suppliers of energy. Most energy that is used in the Netherlands comes from Russia, followed from a distance by Norway. Turmoil between the Netherlands (or EU) and a major energy supplier - tensions with Russia for example are never far away - has the potential of major impact on the Dutch energy supply. A lighting example of this happened in de fall of 2021, when due to rising energy demand and less supply from Russia, Dutch energy prices soared. The Dutch dependence on Russian gas is nothing less than a serious geopolitical disadvantage. One of the ways to get out of this predicament is for the Dutchies to invest heavily in renewable sources of energy.
The future politics of Hydrogen Fuel
Earlier in this series of blogs, nuclear energy was discussed as a gamechanger for the energy industry, but a controversial one as well. Not everyone dares to double down on a future full of nuclear plants and radioactive waste. Lots of countries and companies are betting on another horse: hydrogen fuel. Hydrogen fuel is a gas, extracted from water in a process which requires energy as well. If this energy comes from renewables, it's called green hydrogen fuel. The ideal production site for green hydrogen fuel is somewhere where there is plenty of space and access to renewable energy. A big plus is that hydrogen fuel can be easily stored and transported, in contrast to nuclear and clean energy. If hydrogen fuel becomes the next big thing, an enormous shift in geopolitics is upon us. Traditional purveyors of non-renewable energy, like Russia and Saudi Arabia, could lose their bargaining chip to countries that are leading in the hydrogen fuel industry3. The landscape of energy providers would be much more varied and possibly greatly different from the today's image. Superpowers that derive their geopolitical strength from the fossil energy industry would have to surrender at least some of their influence. The diversified landscape of energy suppliers could be the solution to a problem many Western countries encounter when their energy supplier commits acts of human rights violations or other crimes. In the ideal case, countries would boycott suppliers that operate outside international law – a form of 'energy democracy'. Time will tell if this ideal becomes reality.
Box 1 - The Future Politics of Hydrogen Fuel.

Hunt & Hackett has observed a total of 18 APTs to have been active in the Netherlands' energy industry. Most of these attacks were motivated by espionage and information theft, indicating that the Netherlands has caught the eye of malicious actors seeking to enhance their own energy industries. Left unprotected, Dutch advancements as a result of expensive R&D efforts could be undone by crafty APTs. The origins of APTs that already have been spotted attacking Dutch energy enterprises can be found, unsurprisingly, in China, Russia, North Korea and Iran, nations that were discussed earlier in this blog series. It's only a matter of time before the Netherlands follows in Norway's steps, which saw two of its major innovative energy companies attacked in the last two years, resulting in tens of millions of dollars worth of damage4.
The threat is closing in and is already hitting companies active in the Netherlands. Just days before the release of this blog, word got out that OilTanking, a massive tank logistics company from Germany, was hit by a serious cyber-attack, paralyzing much of its operations. As the story developed, it became clear that around 17 oil terminals, spread out over Europe, have been targeted in the attack. Six of the terminals are situated in the ARA-area (Amsterdam, Rotterdam, Antwerp). The impact of the attack and the motivations behind remain unknown5. Clear is that energy companies in the Netherlands should remain vigilant.
"Research from the Dutch intelligence agencies AIVD and MIVD shows that multiple Dutch top industries have been targeted for the purpose digital espionage. It mostly concerns the industries of high-tech, energy maritime and life sciences & health."
-National Coordinator for Security and Counterterrorism (NCTV), CBSN 2020
Hunt & Hackett helps organizations in the energy industry to safeguard the products, technologies, and IP investments. Newly developed technologies and intellectual property that are related to the energy industry are high on the wishing-list of foreign adversaries. By tracking their every move, mapping their strategies and outsmarting their tactics, Hunt & Hackett assures that its partners are protected against any cyber-threat.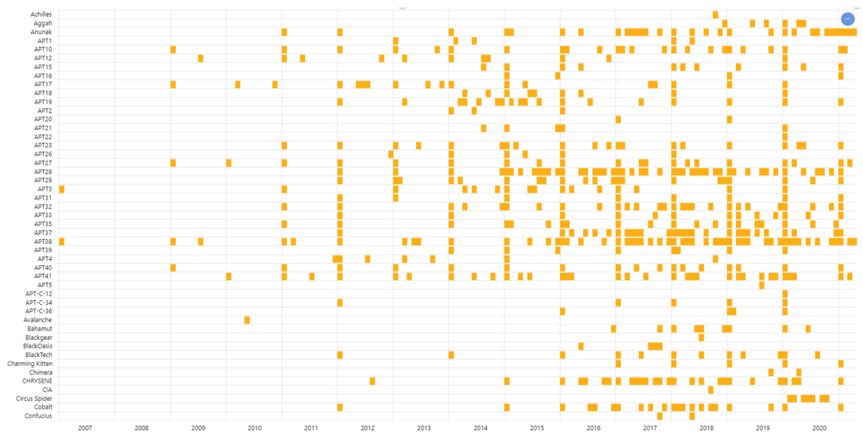 Figure 1 – Only a few of the APTs Hunt & Hackett tracks and when they have shown activity in energy or related industries globally.
As figure 1 shows, the threat to the energy- and related industries has drastically increased. Hunt & Hackett is highly vigilant and has the skills to counter this threat. We­­ protect the digital environment of highly innovative companies and make sure that their secrets don't fall into the hands of malicious adversaries. The approach we apply is data-driven and adversary-central: Threat Modelling.
This blog has dealt with the energy industry in the Netherlands and the growing threat of cyber-attacks. The next blog, as a special feature, will dive into a concern of many organizations in the energy industry: disruption. Stay tuned to find out more.
Sources
https://fd.nl/tech-en-innovatie/1414264/waterstof-zet-de-machtsverhoudingen-op-zijn-kop-psk1cajlBIZd
https://nos.nl/artikel/2415542-digitale-aanvallen-op-europese-olieterminals-ncsc-ziet-geen-verband